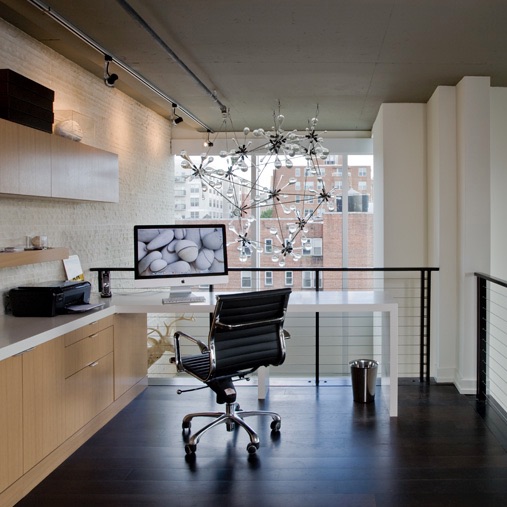 Here's How to Create a Home Office That You'll Adore
One of the biggest advantages of business ownership is being your own boss. You get to call the shots on when you work, how much work you do on a given day, when you can take a vacation, and how long you spend on your lunch break. Another major perk of being your own boss is getting to decide where you conduct business. Whether you work from an island in the Caribbean or from your sofa, the sky's the limit when you're location independent.
However, while some adventurous entrepreneurs opt to work from exotic locations, most settle for the convenience and ease of working from their home office. If you're an entrepreneur who is looking to design the perfect space for your new business, explore these expert tips from FORMA Design.
Starting your new business
Brand new to business ownership? If so, it is important to settle all of the basics before creating the office of your dreams. Why? Holding certain licenses and permits will require that you adhere to specific rules within your workspace. For example, to run a home bakery, there are restrictions (in most states) about where you can bake, what equipment needs to be installed (such as a dedicated handwashing sink), and where you can pack up your food items.
Even if you aren't running a food-based business, knowing what's expected in your industry is critical. Before calling a contractor, take care of the essentials needed to start a business, such as forming an LLC, filing for your sales tax permit, obtaining a business license, and deciding if you'll use a DBA, meaning 'doing business as.' If you plan on forming an LLC for your company, you are legally required to include "LLC," "Co" or "Ltd." as part of your business's name. Having a DBA allows you to use a less formal name, which makes marketing much easier. Explore DBA benefits to fully understand if you should use one for your company.
Purchase a more spacious home to accommodate your needs
Once you've settled everything needed to start your business, it is time to decide the best course of action for creating a breathtaking — and practical — workspace. At this stage, it should be relatively obvious if you need to purchase or rent a new home to accommodate your organization's operations. Large equipment, the need for inventory storage space, a spot to meet with clients, or an area to create and design items are all common reasons for upgrading to a more spacious home. When searching for a new residence, ensure that the property meets every necessary requirement and that the governing HOA permits home-based businesses.
Make stunning renovations that are both appealing and functional
Have plenty of space, but it doesn't work well for running your company? An ideal solution is to make stunning renovations that are both appealing and functional. Adding walls, shelf space, closets, and other attractive features can transform any room into your dream home office.
The experienced FORMA Design team specializes in residential design projects. If you're located in Washington D.C., Virginia, Maryland, Miami, or anywhere in the country, for that matter, we can help create a room design for your home that you'll adore.
Redesign your existing home office space
The best-case scenario is having the perfect space in your home that needs simple redesigning. Oftentimes, adding new paint or wallpaper, flooring, storage space, and other decorative elements can make your home office exactly like you want. These projects can be completed DIY or by a professional team. If you are struggling to redesign your space, hiring an interior designer is a wise decision.
Finding or creating the perfect home office for your home-based business should always be based on your individual needs and preferences. No matter your industry or goals, enlisting the help of design experts and contractors can make the process much easier.
FORMA Design has led numerous interior design and architecture projects for clients since 1994. Explore the design portfolio today.